What's your favorite hobby? Does it have any insider jargon? Most hobbies do. Comic book collecting is no different; its most common bit of jargon may be "grail." Collectors will often ask each other, "What's your grail?" Or an excited collector will exclaim, "I finally found my grail!" In comic book terms, a grail is a rare, expensive issue that will become the centerpiece of a collection. Often, it is the one book that a collector has searched for all of his or her life, and the one book that he or she would trade their entire collection for. The term comes from the "Holy Grail," a vessel with mystical powers to provide sustenance, happiness or eternal youth, and the never-ending unsuccessful quests to find it. Common comic book grails include: The Amazing Spider-Man #300, New Mutants #87, and The Sandman #4. However, Wilkes-Barre has its own comic book grail—Joe Palooka #1. LCHS is pleased to have a copy in its library and archives collection.
Written by Wilkes-Barre's Ham Fisher (1900-1955), Joe Palooka began life as a newspaper comic strip. Fisher created Palooka in 1921 after meeting real-life boxer Pete Latzo (1902-1968), but the strip did not appear regularly in papers until 1933. At its peak, Joe Palooka ran in over 900 newspapers in the United States and more than 120 abroad. Joe Palooka also appeared on a weekly CBS radio show in the summer of 1932 before starring in the 1934 movie Palooka, and then became a comic book series. The comic strip ran until 1984.
While there were earlier comics under the Joe Palooka name, they were merely compilations of newspaper strips. The issue shown here (above), published in 1945, was the first in a series of monthly original Palooka stories. In issue #1, a wounded Palooka entertains his fellow soldiers on a transport ship with the story of his accidental World Heavyweight Title win. Joe enlisted to serve his nation despite being champ, fought the Nazis and encouraged readers to buy war bonds and plant victory gardens. Later on, Palooka hob-nobbed with many celebrities of his day, most famously golfing with Bob Hope (you can check out that strip at this link, just scroll down the page a bit: https://en.wikipedia.org/wiki/Joe_Palooka).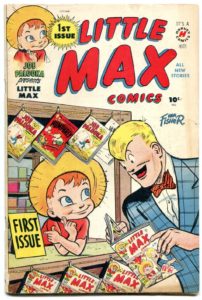 Throughout his run, Joe Palooka was not just a product of his time, but of his place of origin as well. In issue #1, he uses local slang such as "deeze" and "dem." He mentions many notable locals such as Herman Mankiewicz (the screenwriter for Citizen Kane). Other characters are based on real Wilkes-Barre residents, such as "Little Max," inspired by future jeweler Max Bartikowsky, who later received an eponymous comic book from Harvey Comics in 1949 (see the photo at right). With such a deep embrace of these local ties, is it any surprise that the community embraced Joe back, with such local landmarks as the now-defunct Joe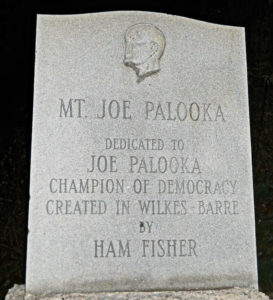 Palooka Diner (which was located on Market Street in Wilkes-Barre), and by renaming Wilkes-Barre Mountain, "Joe Palooka Mountain"? In 2017, the Palooka monument on Route 309 in Hanover Township was rededicated after some refurbishment and the addition of a new plaque (see https://wnep.com/2017/10/25/joe-palooka-monument-rededicated/.)