While everyone is at home I thought it would be cool to look at something a little different this week: a historic cookbook! Most of us have cookbooks laying around, and a lot of those are the ones put together by small organizations as a fundraiser you feel obligated to buy: Boy Scouts, church groups, high school clubs, etc. I own a copy of Butter the Size of a Turkey Egg: The Foodways and Social World of the Ladies of the Presbyterian Church of Kingston, Pennsylvania in 1907, Including Over 450 of Their Everyday Recipes by Robert W. Surridge, D. Ed. In addition to reprinting RECIPES: Collected by the Ladies of the Presbyterian Church of Kingston, Pennsylvania in 1907, Surridge gives context to the town of Kingston and the United States as a whole to provide a background for the original Recipes.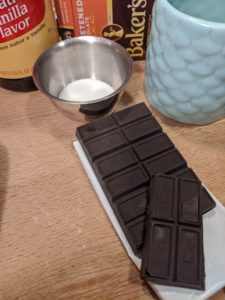 Some of these recipes are really strange, especially from a modern perspective. Like Surridge notes on page 44-46, measurements are not all standardized, and sometimes measure by relative size, like 'Butter the Size of a Turkey Egg.' Some recipes don't have any instructions at all, and it is assumed that the reader will understand how to prepare the dish from experience or similar recipes. In addition, the kinds of food and ingredients readily available have changed, to the point that I can't recognize some of them. Suet Pudding on page 85 was a complete mystery to me. Not only does it call for suet, which I have only recently learned is a kind of fat and not a square of bird seed, the instructions are to 'Steam Twenty Minutes in Egg Poacher.' I had to look up what an egg poacher was. So yeah, I will not be making Suet Pudding anytime soon.
Cookbooks themselves can tell us a lot about the culture in which they are made. Keith Stavely and Kathleen Fitzgerald note that American Cookery by Amelia Simmons, the first cookbook written and published in the United States, places decadent recipes right next to practical ones, and the juxtaposition of such recipes illustrates an American identity of luxury to aspire to and simplicity to get by. In addition, it was the first cookbook to include locally sourced ingredients and American terminology. Therefore, we must consider who wrote the cookbook who the intended audience was. RECIPES was written by the Ladies of the Presbyterian Church of Kingston for those who wished to support the church, which was probably the Ladies themselves: my mother bought all the cookbooks she participated in, and some of the ones her relatives participated in too. The ingredients that I'm unfamiliar with would be available to them, and it may also explain the lack of directions in others.
Nineteen of the recipes were submitted by Miss Frances Dorrance, LCHS's very own Executive Director from 1922 to 1938. Dorrance was a pioneer in local history and archaeological preservation, was instrumental in the founding of the Hoyt library and the Society for Pennsylvania Archaeology, and initiated a paper survey to catalogue all the archaeological site in Pennsylvania (see Frances Dorrance and the Indian Survey – A Crusader for Local History). So I tried a few of her recipes: Spanish Chocolate, Stuffed Eggplant, and Wine Jumbles.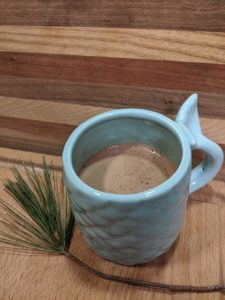 First up: Spanish Chocolate, which called for one quart of milk, two egg yolks, one cake of french chocolate, and one teaspoon of vanilla. I didn't have a quart of milk, so I cut everything to one fourth of the recipe and immediately came across a problem: I have no idea what French Chocolate means or how much 'one cake' is. I had some unsweetened bakers' chocolate, and guessed that a cake might be the whole bar (four ounces), so I cut it to one ounce, and added about 2 tablespoons of sugar. The second problem: I severely underestimated how little one egg yolk is, let alone one half of an egg yolk. I could not use my mixer to whip it, and now my arm hurts. I do not recommend cutting the recipe to one fourth.
Result: Super Creamy Hot Chocolate! My mom even liked it! One ounce of baker's chocolate to one cup of milk seems to be the appropriate proportion. Egg whites in brandy sours are excellent, so I think we should bring eggs back into beverages in general.
Next recipe: Stuffed Eggplant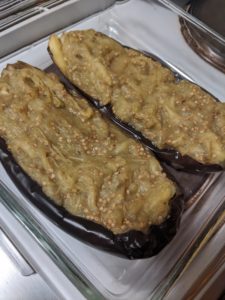 I had an eggplant, so I tried this one. It calls for an eggplant, butter, salt, pepper, and (optionally) minced veal or chicken. I added a little garlic, too, because I like flavor. The instructions are fairly straight forward, except there is no temperature listed for baking. Temperature control is a relatively new invention. Historically, temperature had to be maintained through controlling the fire directly and feeling for temperature.
Result: Acidic mashed potatoes, with seeds. Eggplant has a very light flavor, so I could really only taste the salt, pepper, and garlic. The garlic was good addition, but the texture was not. I didn't add meat, but it would probably help it a lot for a modern palette. I think I may have boiled the eggplant too long. It really didn't look good.
Lastly: The Wine Jumbles recipe calls for one bag of four and one pound of sugar, (along with butter, cinnamon, mace, and eggs) which is a lot. Also, flour comes in a variety of bag sizes, and I couldn't quite find out how much a standard bag was in 1907. I assumed a bag was five pounds, as that is usually the amount I buy, and reduced the recipe to one third of the original. The instructions are only to 'Bake in a Quick Oven in Jumble Tins.' A quick oven refers to baking at around 425 degrees F and as far as I can tell, jumble tins are like cupcake tins. I used a mini cupcake maker with no way to measure temperature.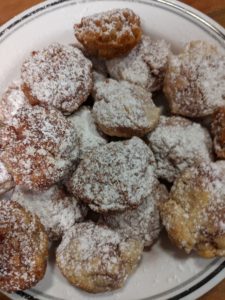 Trial 1: A BAG OF FLOUR IS NOT FIVE POUNDS. On first mixing, it was too dry, so I added another egg and a stick of butter. They cooked to be slightly sweet, very dense biscuits. A 'bag of flour' is most likely a pound or two instead of five.
Trial 2: I added more butter and sugar, and it was sort of good. I topped them with elderberry wine. They tasted like crumb pie topping, with a little bit of tart berry flavor from the wine. Good, but I would rather just have the pie.
All in all, the Spanish Chocolate was the best, because of how easy it was and my personal love of chocolate. If you're interested in trying out some historic recipes, there are a lot online resources! To name a few video tutorials from actual professionals, The Museum of the American Revolution has a few Living History Cooking Demonstrations on Instagram and Youtube, How to Cook That with Anne Reardon has a series of videos where she shares recipes from a 200 year old cookbook, and Townsends has an entire channel dedicated to 18th century living. In addition, many original text of historic cook books have been digitized and are available through online databases like Project Gutenberg and the Hathi Trust Digital Library.
I've found quarantine is an excellent time to experiment with cooking. If you've tried any historic recipes, let us know!
Sources:
Albala, Ken. 'Cookbooks as Historical Documents.' The Oxford Handbook of Food History.
Jeffrey M. Pilcher, ed. Oct 2012. Online Nov 2012. Abstract. < https://www.oxfordhandbooks.com/view/10.1093/oxfordhb/9780199729937.001.0001/oxfordhb
-9780199729937-e-13 >.
Bell, Don. 'Oven Temperature Conversion.' Homemade Desert Recipes: Grandma's Old
Fashioned Desserts and Nostalgia. < https://www.homemade-dessert-recipes.com/oven-
temperature-conversion.html >.
Hathi Trust Digital Library. 'Early American Cookbooks.' <
https://babel.hathitrust.org/cgi/mb?a=listis&c=1934413200 >.
Museum of the American Revolution. 'Living History Cooking Demos.' Youtube.
<https://www.youtube.com/channel/UCif6SaofrVBC1qPAMsGcYVQ>.
Project Gutenberg. 'Cookbooks and Cooking (Bookshelf).' <
https://www.gutenberg.org/wiki/Cookbooks_and_Cooking_(Bookshelf) >.
Reardon, Anne. How to Cook That with Anne Reardon. Youtube. '200 year old recipes.'
<https://www.youtube.com/playlist?list=PLPT0YU_0VLHzdOujRzlwwm4lqzuCxAxYy>.
Stavely, Keith and Kathleen Fitzgerald. 'What America's First Cookbook Says About Our
Country and Its Cuisine.' Arizona State University. Zócalo Public Square. January 11, 2018
< https://www.zocalopublicsquare.org/2018/01/11/cookbook-declared-americas-culinary-
independence/ideas/essay/?xid=PS_smithsonian >.
Surridge, Robert W., D. Ed. Butter the Size of a Turkey Egg: The Foodways and Social World
of the Ladies of the Presbyterian Church of Kingston, Pennsylvania in 1907, Including Over 450
of Their Everyday Recipes, Luzerne County Historical Society, 2012.
Townsends. Youtube. < https://www.youtube.com/user/jastownsendandson/featured >.